BIDEN ISSUES NEW RULE TO CRACK DOWN ON 'GHOST GUNS,' 3D PRINTING INDUSTRY RESPONDS
Written by Paul Hanaphy, 3D Printing Industry
Published: 21 April 2022
Legal experts and gunmaking hobbyists have cast doubt over the relevance of US President Joe Biden's upcoming 'ghost gun' reforms to the 3D printing industry.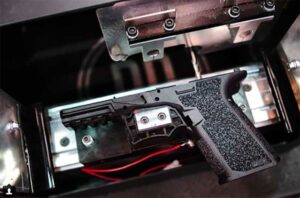 Soon to be introduced in the form of 'Final Rule 2021R-05F,' these changes will see the US Bureau of Alcohol, Tobacco, Firearms and Explosives (ATF) alter how it defines a firearm. By broadening this meaning to include unfinished frames and receivers, the ATF is now set to mandate that these feature serial numbers too, in a move designed to limit unmarked gun access, with touted 3D printing implications.
When contacted by 3D Printing Industry, however, Youtuber Sean Aranda (aka 3D Print General), Erich Pratt, Senior VP of Gunowners of America, and Michael Weinberg, Executive Director of the NYU School of Law's Engelberg Center on Innovation Law and Policy, have indicated that this may not necessarily be the case.
In particular, Weinberg, whose institute specializes in exploring tech policy ramifications, has highlighted how the changes don't address 3D printing specifically, thus they could actually be seen as a welcome move away from the traditional media hype around printed guns.
"My primary concern with the earlier proposals was that they singled out 3D printing as a manufacturing method," explained Weinberg. "This new proposal addresses privately-made firearms regardless of the specific tools and technologies used to make them. I think this new rule is a win for the 3D printing community."…
Biden's Final Rule effectively changes the ATF's definition of a firearm to take into account the tech advances that have taken place since this was legally defined back in 1968 and 1971. Significantly, the revised definition now includes incomplete, disassembled, and nonfunctional frames or receivers, which have reached a stage in their manufacture where they may "readily be made to function."
As a result, once the change comes into effect (set to be 120 days after it appears in the Federal Register), firearm manufacturers and resellers that buy or build their own guns (3D printed or otherwise) will have to mark them. For those who have already created 'privately made firearms,' they'll have until sixty days after the rule is introduced to do so, whether this be achieved privately or via a gunsmith.
The idea being, that in future, if anyone were to buy one of these firearms and commit a crime with it, they could easily be identified. Speaking to 3D Printing Industry, however, Erich Pratt, Senior VP of Gunowners of America, has raised doubts about the validity of White House claims that ghost guns are the "weapon of choice" for criminals, emphasizing that "registering guns doesn't prevent crime."
"The term 'ghost guns' is just a phrase that anti-gunners use to demonize privately-made firearms," said Pratt. "This President is not as interested in protecting public safety, as much as he wants to implement a radical gun control regime. Serialization is not designed to stop criminals, but it is intended to register the law-abiding, which history shows is the first step toward confiscation." …
Read more at 3D Printing