Surprising poll by USA Today readers on GOA's recent article
Written by Erich Pratt
Published: 26 September 2018
Surprising poll by USA Today readers on GOA's recent article

---


Not a GOA member yet? We need you more than ever right now!
---
USA Today Poll Backing the GOA Position
Dear Friend:
You and I know that the anti-gun Left never sleeps.
Universal Background Checks … waiting periods … gun bans … and much more.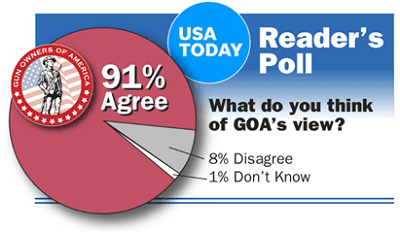 There's no end to the list of infringements that they will demand.
And that's why I'm so glad that you are helping to keep GOA on the frontlines.
Last week, USA Today published my article exposing the problems with the Brady background check system — and showing why it's infringing on the rights of gun owners and needs to be repealed.
Check out my USA Today article here — and look at the amazing poll results!
As I write this, over 90% of the readers either "strongly agree" or "agree" with the GOA position.
The poll is still open, so make sure you vote at the bottom of the article to say that you "strongly agree" with the position that we should defend the Second Amendment without infringement.
Then, share the article on your Social Media pages (Twitter, Facebook, etc.). That will help to educate others on the failure of gun control!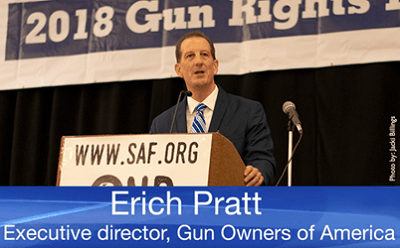 I travelled to the Gun Rights Policy Conference in Chicago with my colleague, GOA Director of Operations John Velleco.
Together, we spoke with hundreds of activists who had come from all over the country.
You can see my speech to the GRPC here.
Our state director Rachel Malone was presented there with the Grassroots Activist of the Year award for her hard work in getting gun owners active in the political process.
You can see Rachel's speech to the GRPC here.
And GOA's Director of Communications Jordan Stein traveled to the 2018 Stark Expo in North Carolina, where he was also recruiting new members to join the nation's largest no-compromise gun lobby!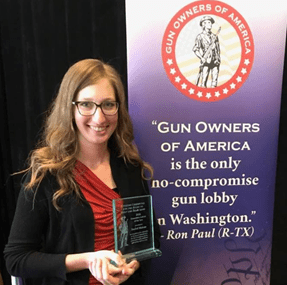 Jordan got to fire some full-auto firearms, and you can catch a recap of the event on GOA's Instagram.
He was also interviewed by MrGunsandGear, a prominent firearm and accessory reviewer.
You can see Jordan's interview with Mrgunsgear here.
Anyway, I want to thank you again for supporting GOA's mission to defend the Second Amendment.
You make it possible for us to remain on the frontlines.
In Liberty,
Erich Pratt
Executive Director
Follow me on Twitter: @erichmpratt
P.S. GOA is working at the state and federal levels to defend the Second Amendment without compromise. Would you consider chipping in $20, $30 or $50 to the fight?
Featured GOA News & Updates