Anti-gun Loretta Lynch Sworn in as Attorney General
Written by admin
Published: 28 April 2015
ACTION: Please take action by clicking here to hold Senators accountable — "spanking" Senators who supported the anti-gun Loretta Lynch, and thanking those who opposed her. This is an action item for which everyone (even those living in anti-gun states) should be able to take part!
Twenty Republican Senators helped break filibuster against Lynch
Loretta Lynch was sworn in as the 83rd Attorney General of the United States on Monday.
Lynch is an extreme, anti-gun advocate who supports reenacting the so-called "Assault Weapons" ban which sunset in 2004.
While every Democrat supported her, the Republicans listed below cast their support, as well. For starters, every Senator below — both bolded and non-bolded — voted to break the filibuster against her nomination. They are: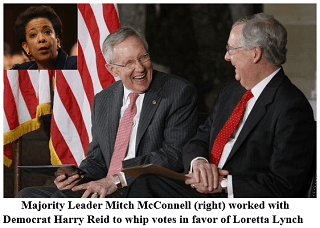 Alexander (R-TN)
Ayotte (R-NH)
Burr (R-NC)
Capito (R-WV)
Cochran (R-MS)
Collins (R-ME)
Corker (R-TN)
Cornyn (R-TX)
Flake (R-AZ)
Gardner (R-CO)
Graham (R-SC)
Hatch (R-UT)
Johnson (R-WI)
Kirk (R-IL)
McConnell (R-KY)
Portman (R-OH)
Roberts (R-KS)
Rounds (R-SD)
Thune (R-SD)
Tillis (R-NC)
The bolded Senators voted for Lynch twice. (More on this in just a second.)
But to be clear, if these Republicans had voted AGAINST Lynch on the cloture (or filibuster) vote, the Lynch nomination would have failed.
Why? Because the Democrats would NOT have had the 60 votes needed to defeat the Republican-led filibuster.
However, the Republicans listed above — those whose names are NOT bolded — tried to "have it both ways." Having voted to break the filibuster, they then turned around and voted "pro-gun" against Lynch on the final confirmation vote.
This allows them to sell their constituents on the false premise that they opposed Loretta Lynch. But that's not true, since they betrayed gun owners on the most crucial "cloture" vote.
But the Senators whose names are bolded took that extra step of actually VOTING TO CONFIRM Loretta Lynch. In essence, they voted for Loretta Lynch twice.
They not only voted to break the Republican filibuster, they also voted for her final confirmation.
Sen. McConnell twists arms to get Lynch confirmed
Why would so many Republicans vote to confirm President Obama's anti-gun nominee — given her anti-gun record, and given the fact that she wants to legalize millions of anti-gun voters?
Because the pressure to support her came straight from the top, straight from Majority Leader Mitch McConnell's office.
Senate Republicans, who opposed Lynch, report that Majority Leader McConnell was quietly twisting arms, getting the support needed to overcome a filibuster.
Here's what was reported in one of the Capitol Hill newspapers:
Senate Majority Leader Mitch McConnell (R-Ky.) worked quietly to round up more than 60 votes to end a filibuster of attorney general nominee Loretta Lynch, Republican senators say.
After holding up Lynch's confirmation vote for weeks, McConnell worked to ensure she would overcome a filibuster with a strong bipartisan vote, pitting him against Tea Party firebrand Sen. Ted Cruz (R-Texas) and other conservatives. (The Hill, April 23, 2015)
Having overcome the filibuster against Lynch, Sen. McConnell then voted IN FAVOR of the President's anti-gun nominee.
It is imperative that gun owners take the Republican Senators listed above to the political "wood shed," lest they be emboldened by their perfidy.
But it's also important to THANK those Senators who resisted the Majority Leader's arm twisting to support the Constitution.
As GOA mentioned last week, there were twice as many Senators opposing Lynch as opposed Eric Holder in 2009. So even though we don't have a majority yet, the good news is that we are getting close.
Having said that, politicians are a lot like children. And just as a child doesn't learn to change his behavior if he is never disciplined, neither do politicians if you don't tell them they screwed up and put the heat on them.
ACTION: Please take action by clicking here to both email a Thank You to Senators who opposed the anti-gun Loretta Lynch on both votes and to "spank" those Senators who helped push her through.