Happy Independence Day!
Written by GOA Staff
Published: 02 July 2015
Happy Independence Day!
"GOA [has] proven itself as a uniquely effective 'no-compromise' national leader in the gun rights advocacy community." — David Codrea, formerly of The Examiner
---
Not a GOA member yet? You can join Gun Owners of America today for a mere $20!
---
Gun owners should take heart because freedom is advancing!
It has been a good year for freedom.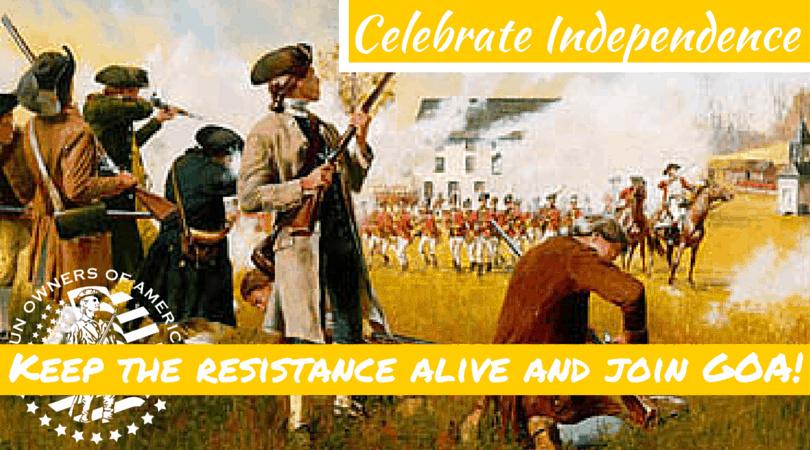 More state legislatures are passing GOA-backed laws, enabling citizens to carry firearms concealed WITHOUT permits — laws that are known as Constitutional Carry.
More states are enacting GOA-backed laws to veto federal restrictions within their borders.  The Brady Campaign even lost a case against Kansas last month, when a judge threw out a lawsuit challenging the state's pro-gun law (from 2013) imposing felony penalties on anyone enforcing gun control.
Finally, more and more people are converting to the pro-gun position.  Polls show that the number of people who favor gun rights — and oppose gun control — is dramatically increasing.
Sure, our rights don't depend on what the majority thinks.  But it's nice when you have the bulk of the American people on your side!
Americans are increasingly pro-gun and are mobilizing
Consider recent polls showing the American public is progressively becoming more and more pro-gun:
 A USA Today poll reported this week that a majority of Americans do not want calls for increased gun control to become a "significant subject" during the 2016 election season.
 This tracks with a Gallup poll in March which showed that a majority of Americans oppose additional gun control laws.
 And last month, Rasmussen reported that almost 70% of the American public want to live in a community where they and their neighbors can be armed.
Your involvement with Gun Owners of America is helping make a difference.  GOA is educating the public and is mobilizing the grassroots to put the heat on their elected legislators.
Just yesterday, our Facebook page hit one million "likes."  Our email activist list continues to grow dramatically.
Our numbers are increasing, and that means YOUR VOICE is getting louder and louder inside the halls of Congress.
Gun Owners of America wants to thank you for your activism, because we couldn't do what we do without your support. 
No wonder that National Public Radio was able to say, "Gun Owners of America showed with one email alert that it could help flood the phone lines on Capitol Hill days before the Senate vote." (December 26, 2013)
GOA: Saturating the media
In addition to "flooding" the Congress with grassroots activism, Gun Owners of America is helping to shape the gun rights debate around the nation.
In the two weeks following the tragic shooting in South Carolina, GOA representatives appeared in almost 1,000 different media outlets to defend 2nd Amendment rights.  At some points, we were literally communicating with the American people around the clock.
Some of the more notable appearances can be listened to or viewed here:
(1) GOA Director of Communications Erich Pratt goes "mano a mano" with a British TV anchor over the subject of self-defense and gun rights.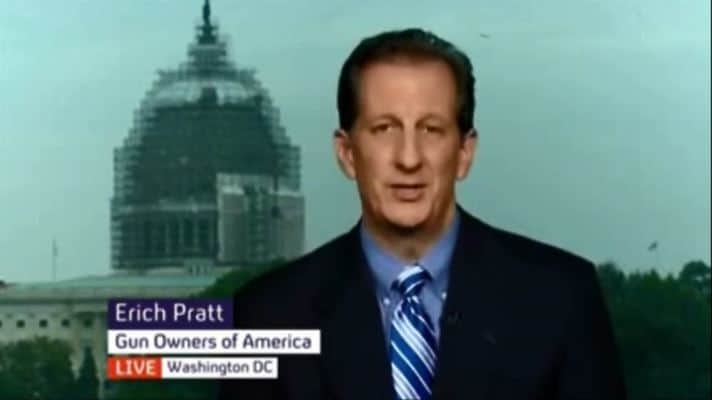 (2) Inside the country, GOA representatives appear on CNN and an ABC NewsTalk stations to reject calls for gun control and to demonstrate how law-abiding citizens can (and have) stopped mass shootings.
(3) On both radio and in print, GOA Executive Director Larry Pratt discusses the Pope's response to the Charleston shooting when he declared that gun makers (and by inference, gun owners) can't be Christians.
There are a lot more media appearances that we have posted, and you can catch up with these on the GOA website, YouTube page and Facebook.
GOA:  Big wins for gun owners at the Supreme Court
Finally, Gun Owners of America is defending our gun rights in the courts.  And this includes lawsuits challenging California's waiting period and restrictive concealed carry requirements.
Not only that, while the Supreme Court's major decision from last Friday has dominated the news, there have been several cases before the high Court that have advanced gun owners' rights.
Gun Owners of America has been involved in all of these cases, and we are happy to report that we are steadily reclaiming lost ground in the courts:
Johnson v. United States.  The Supreme Court prevented a mandatory minimum sentence from being applied against a gun owner merely because he had possessed a firearm.  The Court ruled that mere possession (with no use) of a firearm is not a "violent felony," and thus prevented the imposition of a 15-year mandatory minimum sentence instead of the typical sentence of up to 10 years.  This case helps prevent the demonization of firearms and averts the ability of prosecutors to bootstrap almost any violation by a gun owner into a much longer jail term.  You can read GOA's amicus brief here.
Los Angeles v. Patel.  The Supreme Court affirmed the right of citizens to be protected against warrantless searches.  While the case involved the warrantless inspections of hotel registries, the Court's ruling refused to extend the "highly regulated industry" exception that permits warrantless searches of some businesses.  The decision also casts doubt on the application of warrantless searches to licensed firearm dealers, protecting the records of gun owners from the government's prying eyes.  You can read GOA's amicus brief here.
Rodriguez v. United States.  The Supreme Court ruled favorably in a case which helps to protect the property rights of gun owners.  The Court told law enforcement that a traffic stop cannot be extended beyond its original purpose without additional reasonable suspicion of a crime that would justify detaining an individual in the first place.  This decision protects gun owners' property (like firearms) from unreasonable searches and seizures.  You can read GOA's amicus brief here.
Again, none of these victories would be possible without you. 
We know that the media is frequently dominated by "bad news."  But as you commemorate Independence Day this weekend, realize that there are a lot of good things happening that we can celebrate, as well.
Have a happy and safe July 4th!  And make sure you check out the latest offer from GOA — a commemorative 1 oz., .999 pure silver coin from GOA (click on the image below).
Featured GOA News & Updates