House Republicans Still Considering Gun Control
Written by Erich Pratt
Published: 15 March 2018
Pro-Gun Students Reject School Walkout


Call your Representative at 202-225-3121 and demand a "nay" vote on any Omnibus spending bill which contains Fix NICS gun control. And click here to tweet at the President and the top three House leaders — Paul Ryan, Kevin McCarthy and Steve Scalise — telling them that a vote for Fix NICS is a vote to kill concealed carry reciprocity!
---


Not a GOA member yet? We need you more than ever right now. You can join Gun Owners of America today for only $20!
---
GOA Gives Pro-gun Students a Platform and a Voice
Dear Friend:
You may have seen the wall-to-wall cable coverage of the highly-coached children yesterday, advocating for more gun controls.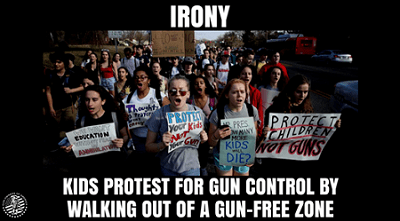 How ironic that they made their demands for gun control by walking out of a "gun-free zone."
But while you probably saw the media reports about these protests, I bet you may not have seen statements from the pro-gun teenagers who want nothing to do with these protests.
Gun Owners of America has been giving them a platform in recent days, and we have been forwarding their statements to pro-gun legislators on Capitol Hill. You can read their stories by going to GOA's Instagram page and viewing the "Students" highlights.
---

Get GOA's alerts delivered to your inbox. Sign up for GOA's free email alerts here.
---
Spending bills are a frequent vehicle for passing gun control
The gun-free zones law dates back to 1996, when Congress passed it as part of a massive, larger bill.
From that time on, our kids were turned into sitting ducks, and an unending string of copycat shootings commenced — including Columbine in 1999, Sandy Hook in 2012, Parkland in 2018, etc.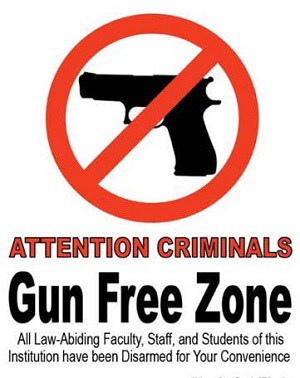 But do you remember what kind of bill the gun-free zones language was forced into law?
The answer is that it got tacked onto a must-pass spending bill.
The congressmen who threw it on the government spending bill deliberately kept Americans in the dark — even at the expense of lying about their intentions.
Well, that's exactly the situation we're in now.
Our best reading is that a whole bunch of noxious legislative proposals are still on the negotiating table.
And, as a result of your tying up Capitol Hill phone lines, the most knowledgeable source tells us that negotiators may be backing away from inserting Fix NICS into the omnibus spending bill.
But that just means that we need to continue putting on the heat. We can't let up right in the middle of the most important battle of the war.
We can still win this battle and keep gun control off the Omnibus
If we can keep Fix NICS off the Omnibus Appropriations Bill, it will be A LOT more difficult for that bill to be moved forward later this year.
I know that we have asked a lot from you recently.
But if you can keep up the calls for another day or two, we may be able to announce a pivotal victory.
So if you haven't called or written your Representative to urge opposition to the "rule" for any bill containing Fix NICS, please call him or her today at 202-225-3121.
Remember that the "rule" is a resolution which must be approved by the House which sets forth the terms under which a bill is considered on the floor — the length of debate, the number and types of amendments.
If your family and friends — the members of your church or gun club — haven't called, urge them to do so, as well.
And if you're on Twitter, you can tweet at the President and the top three Republican leaders here, delivering the message that a vote for Fix NICS is a vote to kill concealed carry reciprocity.
This is a battle that we can win. But we desperately need your help.
Thank you for taking action.
In Liberty,
Erich Pratt
Executive Director
Follow me on Twitter: @erichmpratt
PS: GOA has been digging deep into our resources to fight these nasty gun control measures. Would you consider pitching in $20, $35, or $50 to the fight?
Featured GOA News & Updates