A Dozen Times Good Guys With Guns Stopped A Massacre
Written by Tim Pearce, Daily Caller
Published: 12 November 2017
A Dozen Times Good Guys With Guns Stopped A Massacre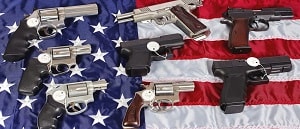 A man armed with a rifle walked into the First Baptist Church of Southerland Springs, Texas, Nov. 5 and killed 26 congregants, fleeing in an SUV after exchanging shots with a church neighbor.
The neighbor, retired NRA instructor Stephen Willeford, and Johnnie Langendorff have been named heroes after the tragedy. Willeford shot the gunman and caused him to flee, while Langendorff drove his truck about 95 miles per hour in a high speed chase to catch the killer.
In honor of the Texas heroes and the 2nd amendment that secures the right for good people to carry guns, The Daily Caller News Foundation has compiled a list of a 11 other times in the past decade where a tragedy was cut short or wholly averted because of good people with guns.
Some of the following were originally gathered by Eugene Volokh for his column in The Washington Post: