Jamiel Shaw: 'My Son Was Murdered by a DREAMer' -- An 'Illegal Alien on 3rd Gun Charge'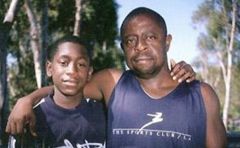 In response to California Senate leader Kevin de Leon (D-Los Angeles) calling the government's threat to withhold funds from cites that don't cooperate with immigration offices as stemming from "white supremacy," Jamiel Shaw Sr., a black man whose son was murdered by a DREAMer, said de Leon and his supporters "always want to demean victims by calling us racist.... It's not fair."
Shaw, whose 17-year-old son was killed the same day the 19-year-old gang member DREAMer was released from jail, further remarked that Senator de Leon has not said "anything bad" about the illegal who killed his son and who had also battered a police officer. De Leon "wants to protect" the criminals, said Shaw, but, "What about us? Where's my son's sanctuary?" 
On Friday, the Trump administration informed California officials that it would potentially withhold $20 million in criminal justice grants to the state unless it ensures it is cooperating with federal immigration agencies and officers on illegal immigration.  
On the April 23 edition of Fox & Friends Weekend, co-host Abby Huntsman quoted de Leon as saying, "It has become abundantly clear that Attorney General Jeff Sessions and the Trump administration are basing their law enforcement policies on principles of white supremacy, not American values. Their constant and systematic targeting of diverse cities and states goes beyond constitutional norms and will be challenged at every level."
Huntsman then said to Jamiel Shaw Sr.: "When you hear these comments, from that that Democrat in California about what Jeff Sessions and Secretary DHS are trying to do with the border and sanctuary cities, what is your response?"
Shaw replied, "It's disrespectful because it's like they always want to demean the victims by calling us racists or like I'm a skinhead or a white supremacist, instead of just saying we're pissed off parents. We miss our kids. We loved our kids. And they want to act like our kids were never born, just never existed. It's not fair."
As for the funding issue being about "white supremacy," Shaw said,  "Of course not, and he [de Leon] knows it's not. They just use that like a new stop sign. Instead of having a red stop sign, they say you're a racist, say you're a white supremacist or something like that. People automatically don't want to called that so they sort of cower."
"But what about me?  I'm a black man," said Shaw.  "My son was murdered by an illegal alien from Mexico."